Mega Plast is a filler masterbatch factory that belongs to Nhat Huy Group that is well known as a trusted manufacturer since 2004 of Natural Stone products, Engineering Quartz, Calcium Carbonate and Barite powder, Filler Masterbatch and PVC compounds.
After more than a decade of growth and development, the Mega Plast factory has constantly grown and recorded many production and business development achievements. The factory's success is supported by the strong Nhat Huy Group with favorable resources and human factors in production and operation.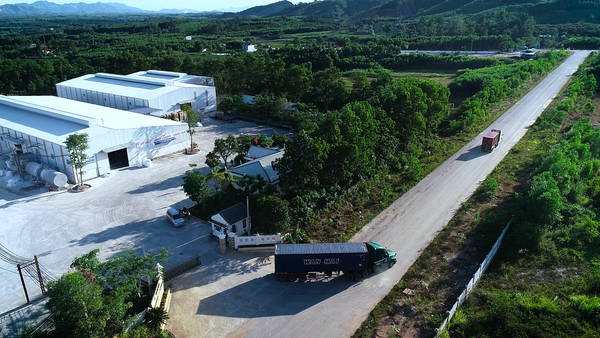 Convenient geographical location
Mega Plast factory is one of the advanced plastic filler masterbatch factories invested early in Vietnam with an area of ​​​​50,000 m2, with many geographical advantages and development vision. Mega Plast is located in Nghia Long Commune Industrial Park, Nghia Dan District, Nghe An Province – known as one of the localities with privileged strengths in natural resources.
We have the authority of exploiting the ample High-calcium Limestone Resources of Vietnam with over hundreds years old. Our total annual production capacity is about 160,000MTs.
Product technology at the factory
To have a large output of plastic beads exported to the world market (estimated at 2000 cont/year, distributed to more than 60 countries worldwide with a total of 200 customers). Mega Plast factory constantly upgrades and invests in production technology of 12 modern production lines from 2019 to 2021 with high-class equipment imported from Europe, Japan, China, and famous brands such as ABC, NCT, and Jewell.
Click here for more details about our technology
With modern production method, professionally skilled staffs, and ability to follow any customer's packing, loading, disinfecting standards, good relationship with many shipping companies, we always supplies customers good quality products, competitive price, good service and on time delivery. Therefore, Filler Masterbatch from Mega Plast have been seen in many countries' market like India, Saudi Arabia, Pakistan, Bangladesh, Poland etc with good reputation.https://www.youtube.com/embed/EACW8RLKBUA?rel=0
Range of our Masterbatch:
The primary product system of Mega Plast factory includes Filler Masterbatch, Color Masterbatch & Technical goods (PS, TALC, BaS04…). Filler Masterbatch for PE applications (PE cast film; PE blow Film, PE Induction,…); PP (PP woven, PP Non-woven, PP BOPP Film, PP Injection…);
Our product code system includes PP, PE 70% to PP, PE 86% stone powder, depending on customers' requirements. The range of stone powder granules can be produced: Max 8 – max 17, depending on the customer's specific needs and the application, based on quality assurance and cost.
With Color Masterbatch, the color is produced according to the customer's sample request and the standard sample of the Mega Plast factory.
PP Filler Masterbatch
PE Filler Masterbatch
White Masterbatch
Colour Masterbatch
Technical Masterbatch
BaSO4 Transparent Masterbatch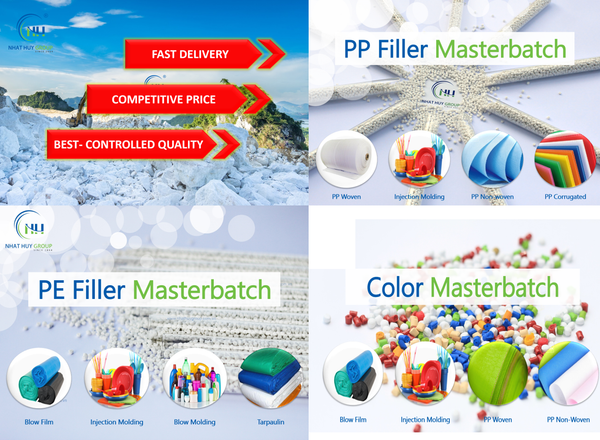 The reason for choosing Mega Plast is a supplier of plastic additives
At Mega Plast, besides the outstanding factors of scale and technology invested in the factory, we are also committed to implementing quality control and product development processes according to modern & strict procedures. Coordination between people and equipment.
We have an R&D product development team specializing in researching and developing non-stop filler masterbatch & color masterbatch products. The quality control department consists of 1 quality control QA and 8 QC controlling the input of raw materials, shipment, statistics, and quality control of the production line.
We equip experimental equipment such as furnaces, MFI flowmeters, and rolling mills. Sample testing equipment such as moisture meter, dispersion meter, injection molding machine, Film blowing machine, etc.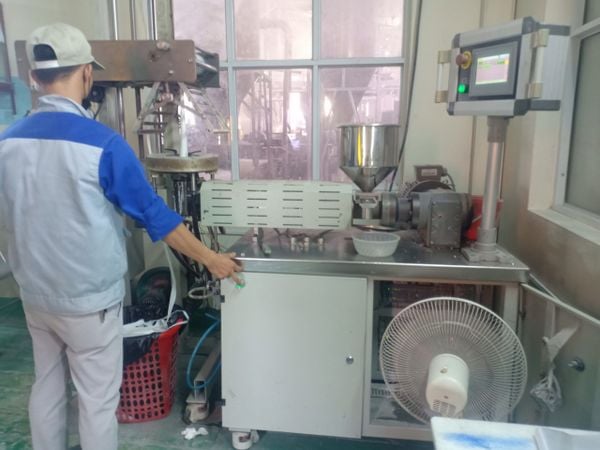 Along with that, we own our CaCO3 stone powder factory, which gives us the advantage of being independent in input materials to produce plastic additive products at highly competitive prices compared to the market. Mega Plast always has a capital round for stable production, establishing a system of high-quality customers such as India, Saudi Arabia, Pakistan, Poland, etc.
As the International Export Supplier, our Masterbatch are approved for use in food contact packing. No-heavy metal, meet Halal certificates and REACH standards comply with EU regulations.