What do you get with a professional filler masterbatch manufacturer Mega Plast?
You will save time searching and get the best competitive price and quality product in filler masterbatch.
1. PRODUCTION CAPACITY
With 20 years of experience, we have received approval to be one of the highest quality CaCO3 Filler Masterbatches manufacturers worldwide, with a total annual capacity is about 180.000 tons/year.
With this capacity, we can bring good businesses to all the buyers without any delay in shipping.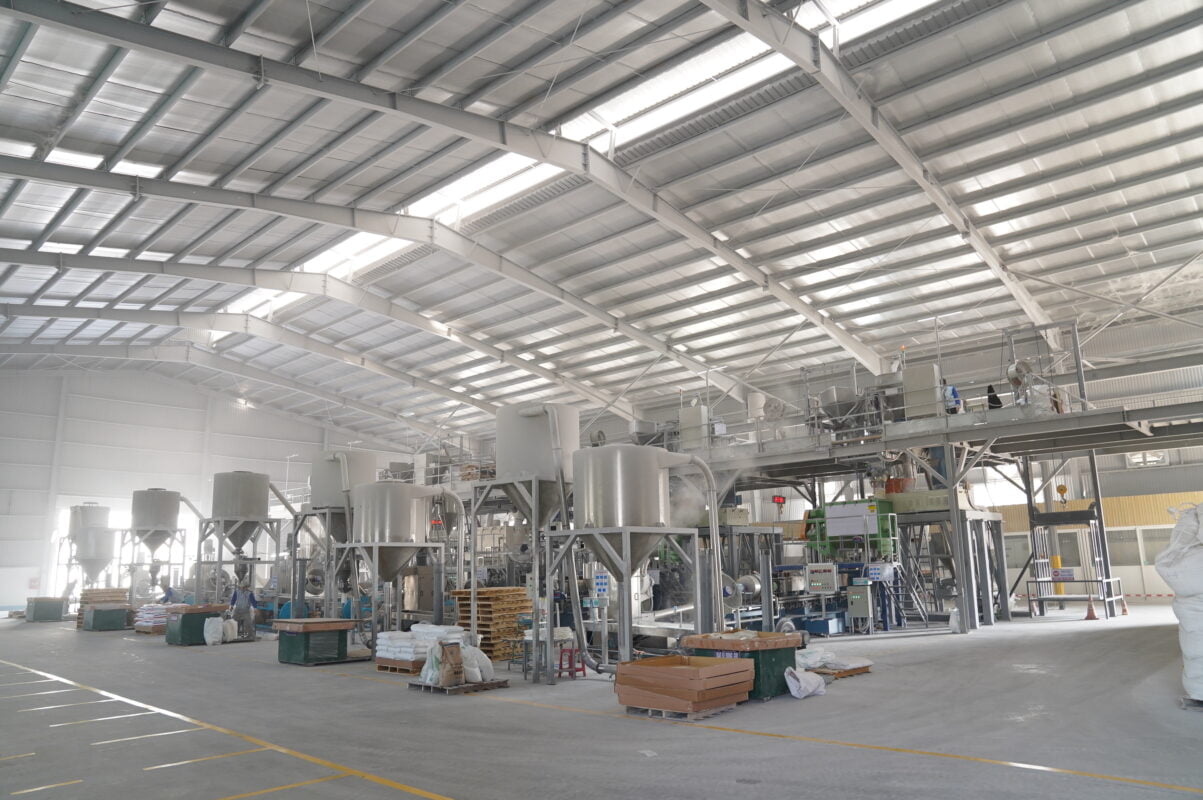 2. NEW HIGH TECHNOLOGY
We invested in 12 new high-quality screw extruder machines that allow us to improve the mixing process and increase the dispersion:
High-quality screw extruder machine
Modern mixing technology facilitates
Thanks to high technology and an experienced technical department, Mega Plast can customize all good grades that match the customer's need.
3. PURE WHITE MATERIAL RESOURCES
Distinguished Calcium Carbonate from our own production (from Global Minerals, a factory of the Nhat Huy Group). We guarantee the finest CaCO3 material from the quality and particle size, well meeting every requirement of customers.
Unparalleled Whiteness of Vietnam CaCO3, exceeding 98.5%. Our products outshine those with sources from Malaysia, Egypt, Turkey, Spain … and bring great benefits to customers requiring high whiteness and brightness: PE Film, PP Woven, and PP Non-Woven.
4. STRICT QUALITY CONTROL
Quality is everyone's responsibility. At MEGA PLAST- Quality is always the first priority. With strict quality control system, we commit to supply the best quality and service to customers:
Check all materials exact % as the recipe
Take samples from the production every 20 minutes to check MFI, moisture, dispersion, impurities…
Pack cargo in strong bag, PE warping & pallet to avoid moisture
Keep sample at lab in at least 1 years until the customers used all of cargo.
5. COMPETITIVE FACTORY PRICE
Our Filler Masterbatch factories are strategically situated in cost-effective locations, enabling us to offer competitive labor and shipping costs. This translate to lower expenses for Mega Plast, allowing us to provide our customers with the best FOB and CFR/CIF prices.
Thanks to having a long-term cooperation with shipping lines, we are able to book the lowest sea freight to all over the world with shortest delivery time.
6. Environmental Impact
We are responsible for the environment. We are constantly improving our environmenta impact by minimizing emissions to air, water and land, reducing or eliminating waste, and minimizing energy consumption.
Which masterbatch of Mega Plast product is right for you?
With nearly two decades of operation in masterbatch production and supply to the global market, Mega Plast has become a sustainable partner of many businesses around the world. You and your business can be delighted with the quality of masterbatch products and reasonable costs because we have been and are the leading masterbatch manufacturer in Vietnam today.