How does filler masterbatch effective product quality?
There are many doubts or hypotheses about the effectiveness of filler masterbatch (or calcium carbonate filler) compared to traditional plastic resin. However, the proofs of this filler masterbatch through product quality, cost-effectiveness, and growth chart of the plastic pellet industry recently have confirmed the role of this material source to the world. 
 Let's look at some specific industries that benefit from filler masterbatch. 
How does filler masterbatch optimize in the plastic packaging industry?
The global plastic packaging market size was worth $348.08 billion in 2020. We forecast to grow at a compound annual growth rate (CAGR) of 4.2% from 2021 to 2028. Rapidly growing key application industries, including food & beverage, pharmaceutical, and personal & home care services, are driving demand for the product.
Popular products of the plastic packaging industry include shopping bags, industrial bags, food packaging, jars, bottles, boxes, food lids, etc. With the number of products stretching over many plastic bases and applications, the use of Filler Masterbatch in the production of plastic packaging brings the following outstanding benefits:
Lower production cost
Filler masterbatch has mainly composed of CaCO3 stone powder, which has relatively cheaper than primary plastic. So we can use it to minimize input material costs and improve the competitiveness of products. On the other hand, due to its low melting point, filler masterbatch conducts heat very well, thereby shortening the time for each product cycle and, at the same time, reducing machine energy consumption, helping to save production costs.
Stabilize input materials
With the main ingredients being kerosene and natural gas, manufacturers have imported most primary plastic from abroad. So this leads to the fact that input material prices are often affected by fluctuations in the oil market. Meanwhile, manufacturers can produce Filler masterbatch domestically, thereby saving transportation costs and stabilizing input supply.
Increase product quality
Brightness: calcium carbonate has a certain natural whiteness, thereby helping manufacturers save a lot of money on additives to increase whiteness, intelligence, and gloss. Brightness is a considerable advantage, especially in the production of food packaging, food wrapping.
Increased mechanical properties: With high stability, calcium carbonate helps the end product to have good bending and impact resistance while increasing tear resistance even when reducing the thickness of the product.
Reducing Carbon Emissions
Along with limiting the content of fossil plastic in products, businesses contribute to reducing environmental pollution. It is especially significant in packaging and single-use plastics, which we condemned for not being able to decompose in natural conditions. Meanwhile, the higher cost of bioplastic materials shows that filler masterbatch is suitable.
How does filler masterbatch optimize in household plastic products?
Unlike plastic packaging, human often produces household plastic products by injection molding technology. Still, manufacturers also use filler masterbatch to bring economic benefits and similar product quality in ingredients.
Besides injection molding technology, thermoforming technology produces several products such as disposable cups, plates, trays, boxes, and plastic pots. Accordingly, this method saves production time and costs more than the two traditional injection molding and film blowing technologies.
The application of Filler masterbatch in thermoforming also offers many benefits:
Increased productivity: Due to CaCO3's good thermal conductivity, the material mixture will melt more uniformly and cool on the roller more quickly. Higher line speeds mean increased productivity.
Low coefficient of expansion: CaCO3 filler reduces the volume of molten plastic, reduces friction with the inner surface of the machine, and reduces extruder load and extrusion head pressure.
Increase stiffness, and minimize shrinkage.
Improve product formability.
HDPE, PP, and PE Pipes Manufacturing Industry
Plastic pipes and rods are essential input products of the construction industry. The application of plastic fillers in production helps to save input costs, reduce production costs, and improve product competitiveness.
In addition, filler masterbatch also helps to improve hardness, improve machinability, and reduce the cooling time for the final product, thereby boosting productivity and quality.
Filler masterbatch from Megaplast
With many years of experience manufacturing and distributing filler masterbatch, Megaplast is proud to be a reputable brand globally, with thousands of partners in more than 60 countries and territories.
Mega Plast provides a wide variety of CaCO3 filler based on the main materials which are high-quality natural limestone sources in Vietnam, primary plastic substrates (PP, PE, HIPS, BIO, …), and special additives.
As a result, the products that reach customers are always the standard materials and are most suitable for the final product.
A finished plastic product reaching the consumer is not only determined by the quality of the original resin but also by the need for various additives that support and improve many of the original resin's features, such as color and form. Plastic additives are a successful creation of the world for the plastic industry. Not only plays an essential role in the creation, processing, form, and function of plastics, but plastic additives are also a cost-effective solution for the plastics industry.
Manufacturers use Plastic filler additives or filler masterbatch to add to plastics to replace a part of costly pure polymers and combine other factors with filler masterbatch to save raw material costs in plastic production.
The reasons analyzed below will prove that filler masterbatch (plastic additive) brings practical economic benefits to plastic enterprises:
The price of calcium carbonate is significantly lower than that of the filled pure polymer; therefore, replacing primary resin with filler masterbatch, with optimal filling ratio, will lead to significant cost reduction of the polymer composition.
The natural whiteness of CaCO3 allows the filler masterbatch to act as a white pigment. Thereby helping to reduce and, in some instances, altogether avoid the addition of expensive TiO2 masterbatch.
Filler masterbatch – Optimal cost solution for plastic industries
Filler masterbatch can also effectively replace, in whole or in part, some expensive functional additives, for example, anti-block or anti-slip additives. The white masterbatch will contribute to prolonging the life of the extruder because the additives mentioned are more complicated than CaCO3.
Using CaCO3 plastic processors will shorten the production cycle and increase extruder productivity while reducing its load, thus saving energy costs.
Wide range of Filler Masterbatch:
• PE Filler for blowing film, blow molding, extrusion coating,
• PP Filler for PP Woven sacks & FIBC, PP raffia, PP non-woven, Injection, Extrusion…
• HIPS/GPPS Filler for foam PS tableware, sheet.
Mega Plast – The leading filler masterbatch manufacturer in Vietnam
Mega Plast is a member of the Nhat Huy Group. We are the first Vietnam Supplier of Filler Masterbatch to own CaCO3 powder factories (Global Minerals). So we can directly collect the best source for producing Filler Masterbatch & production cost-optimization. Our factory covers an area of 50,000 square meters with a total annual production capacity of 160,000 MTs.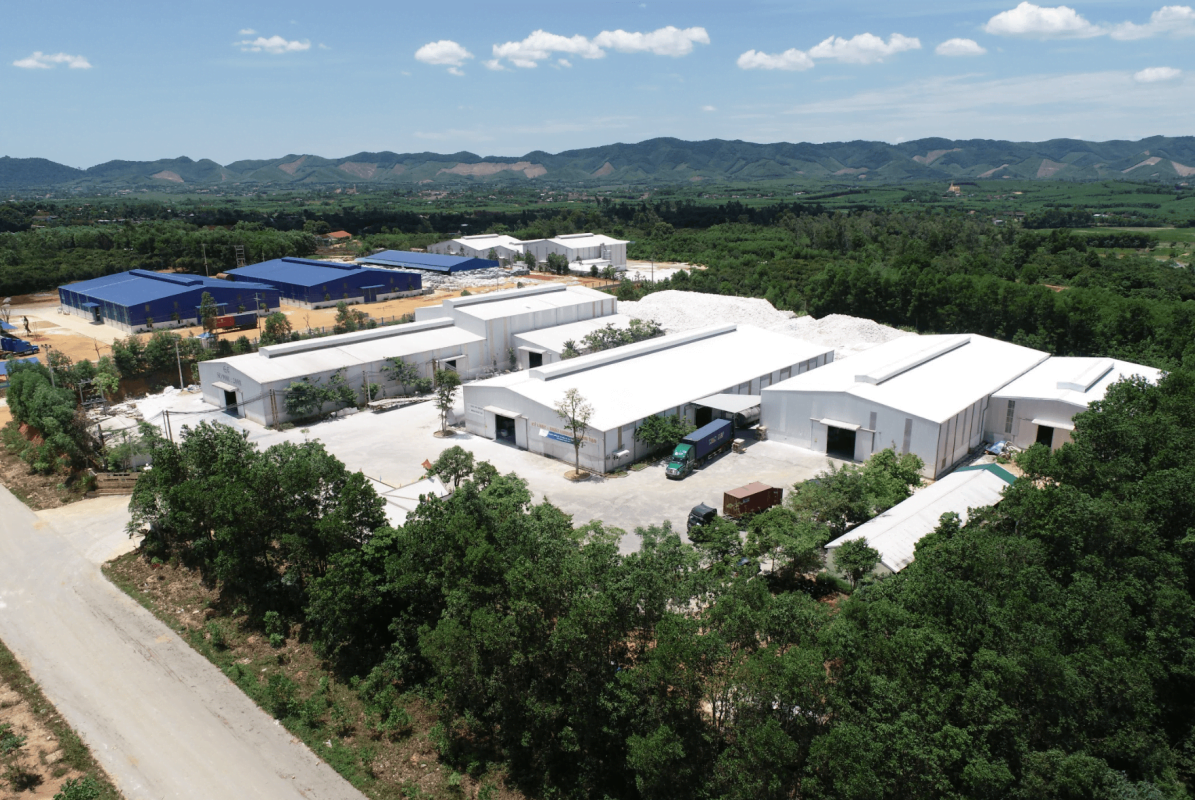 Our Filler masterbatch products include:
High-quality PP, PE & White Filler Masterbatch
Specializing in Color Masterbatch, we offer a wide range of Color Masterbatch: Black & White Masterbatch, Blue & Green Masterbatch, Yellow & Brown, etc.
Excellent quality of technical Masterbatch including PS Masterbatch, GPPS Masterbatch, Talc Masterbatch,…
NOTE: We are looking for sales representatives in different countries, especially the European market. Click the button below for more details.