Are you looking for something to boost your production output this season?
Look no further! Megaplast's Caco3 Filler Masterbatch is on hot promotion until the end of this season. Get your hands on a top-notch product with great performance at unrivaled pricing! Our premium filler masterbatch is renowned for its superior efficiency and resistance to color fade, boosting productivity in demanding environments.
Don't miss this opportunity, and click get a price now for big promotion. It's time to make sure that nothing stands between you and peak production season!
1. Unlock Big Savings on CaCO3 Filler Masterbatch With This Promotional Offer Upto 10% Off
MEGA PLAST (Vietnam) can offer our PP&PE-based CaCO3 Filler Masterbatch at a much more competitive price than other suppliers & more consistent quality.
Especially in this month, Mega Plast would like to offer you a 10% PROMOTION for the first orders for all new customers:
Price only from 285 USD/ ton
Min order: 28MTs/1FCL 20ft without PALLETS
2. Maximize Profits in Plastic Manufacturing with the high dosing rate of CaCO3 Filler Masterbatch from MegaPlast
With owning our coated & fine CaCO3 powder & modern 3-screw extruders, MEGA PLAST (Vietnam) can offer you a PP & PE-based CaCO3 Filler at a high dosage rate.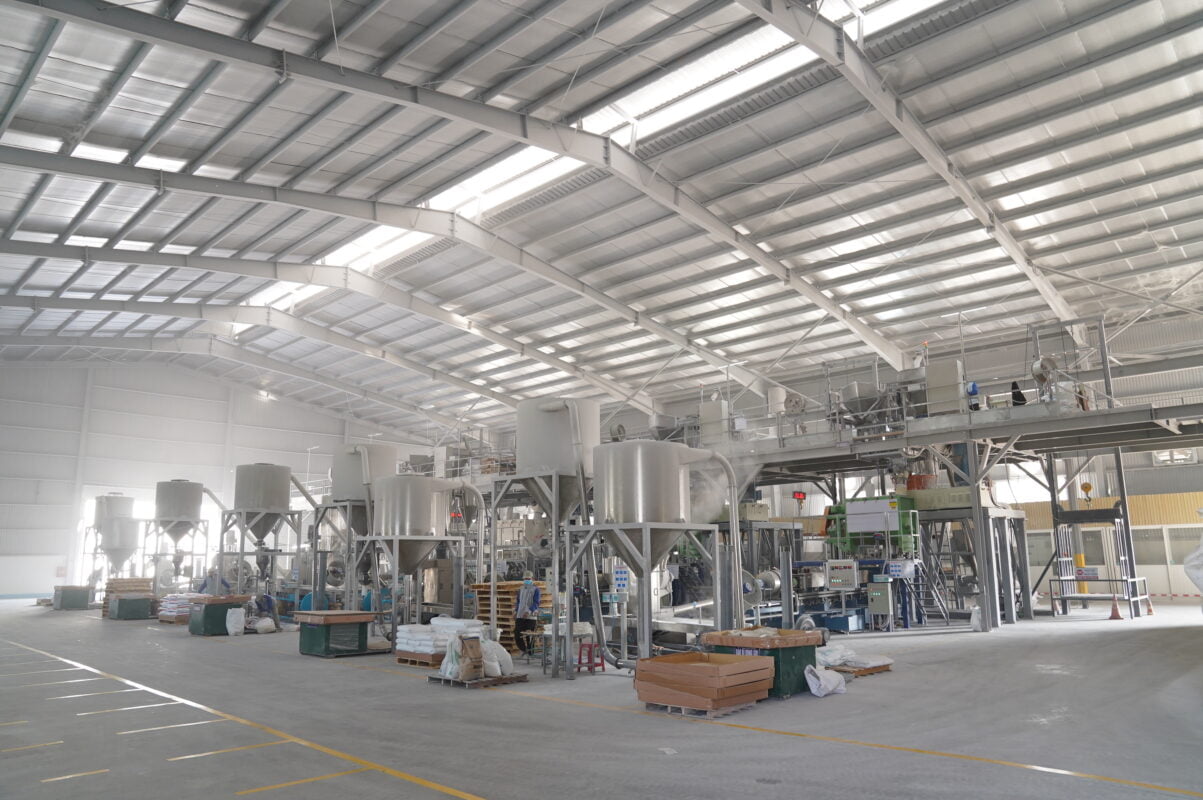 2.1. Dosage rate up to 40% for PP Woven Bags application in the Indian market.
We have two popular grades with the following characteristics:
Grade W282: high-quality grade for machine speed from 400mpm to 450mpm.
Grade W262: a lower grade than W282, but it is very popular in India because of its reasonable price and suitable quality for a machine speed of around 350mpm.
2.2. Dosage rate up to 60% for PE Blown Film application with outstanding grades: F251, F261, and F281
Grade F251: This is the best price for garbage bags, from 50 microns to more. The dosage rate is around 40-45%.
Grade F261: We supply the most popular PE filler masterbatch for PE blown film application to India. Reasonable prices and good quality are consistent with most customers (Shopping bags, Carry bags, garbage bags, stretch film, Cast Film…)
Grade F281: the high-quality grade for a blown film with high dosage rates of up to 60%. It is also being applied for thin film from 8 to 15 microns with a dosage rate of up to 25%.
2.3. White Masterbatch
White masterbatch is a powerful and efficient solution that brings end-products a pristine white color. Made up of a concentrated mix of premium quality materials, including titanium dioxide, carrier resins, and appropriate additives, white masterbatch is a favorite among manufacturers looking to achieve an even, vibrant, and long-lasting finish. With a high concentration of 80% titanium dioxide, this masterbatch achieves excellent dispersion and is excellent in heat resistance and thermal stability. Titanium dioxide, more commonly known as TiO2, is a highly effective light-scattering agent, contributing opacity to the mix. In addition, it improves the lightness and brightness of the material and its durability against weather conditions. With white masterbatch, manufacturers can now achieve highly attractive product finishes that will last a lifetime.
Excellent mechanical properties (being able to withstand impacts and tear resistance) are another benefit of using this product. White masterbatch in the current markets is diverse in a wide range of types categorized based on the specific base resin it consists of, including PP, PE, PS, ABS, and polyester. Thus, it is widely applied in many fields, such as blow molding, injection molding, high-end rotational molding, PP woven bags, and Non-Woven Bags…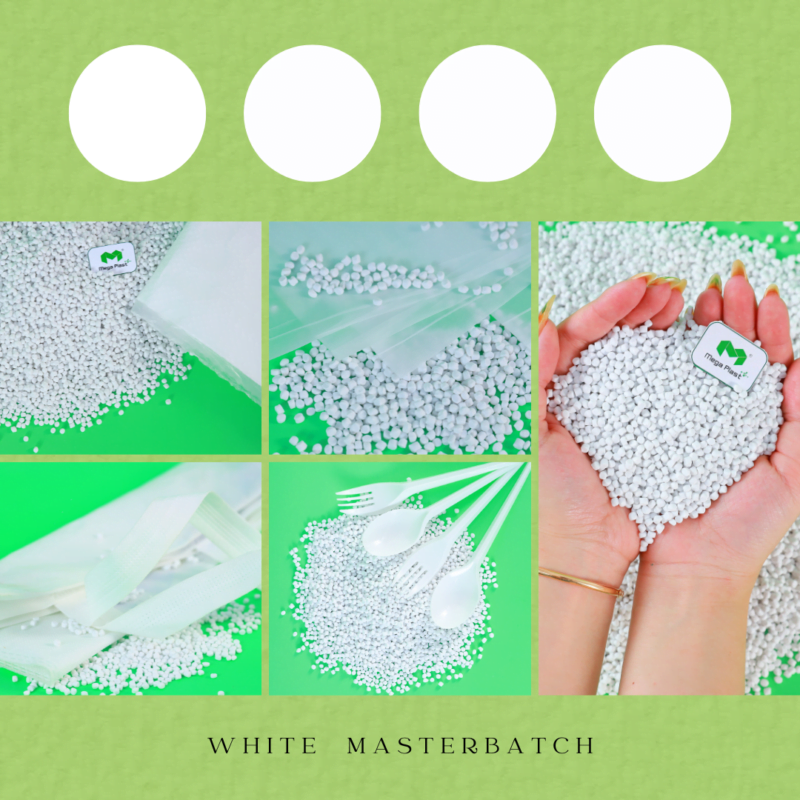 Specifications
– Color: White
– Additives: Dispersion additives, processing aid,…
– Processing temperature: 150 – 280°C
– Particle size: 3 (± 0,3) mm
– Package: 25kg PP/PE bag
– Storage: kept in dry condition
– Recommended usage rate: 2 – 10%
2.4. Black Masterbatch
Black Masterbatch is a versatile and reliable solution for creating products with a black color. Made with carbon black powder and primary resin, this concentrated color granule also includes additives to enhance its performance. What sets black masterbatch apart is its impressive UV resistance and resilience in harsh weather. With a homogenous dispersion, this color masterbatch is ideal for a range of industries, including electronic devices, automotive accessories, agriculture, construction, and packaging. Its exceptional qualities ensure that any product created with black masterbatch will have a durable and appealing finish.
When it comes to creating high-quality black plastic products, the key ingredient is the black masterbatch. Megaplast prides itself on offering a wide range of black masterbatch options, each with mechanical properties uniquely suited for various applications. Whether you need black-blown film, injection molding, or PP woven bags, Megaplast has you covered. Not only are their black masterbatches reliable and consistent in performance, but they are also customizable to fit your needs. So, if you're searching for the perfect black masterbatch solution for your products, look no further than Megaplast.
3. Maximize Your Savings With High Whiteness & Brightness CaCO3 Filler Masterbatch
Thanks to our own CaCO3 powder with the highest whiteness & brightness in the world, MEGA PLAST (Vietnam) can produce CaCO3 Filler Masterbatch with 98.5% whiteness. It helps customers to save their production costs by reducing percentages of white agents or masterbatches.
Read more: The source of CaCO3 powder that Mega Plast used to produce Filler Masterbatch
4. The Benefits of Using High-Quality CaCO3 Filler Masterbatch From MegaPlast: Stable quality, No dispersion, Good Strength
Being the FIRST supplier in Vietnam owing our limestone quarries & CaCO3 powder factories, MEGA PLAST can control well our raw materials & make STABLE QUALITY for every order.
Besides having 15 production lines with a capacity of 180,000 tons per year, high technology, and an experienced technical department, Mega Plast has established many new product codes for high-speed running PP Woven bags and super thin Film applications.
We also make sure no dispersion issue by testing samples in 30 minutes of all lots in our laboratory. It can help to reduce quality issues in customers' production.
5. Supplying to Kolkata, Chennai, Nhava Sheva, and More! A Look at CaCo3 Filler Masterbatch from Megaplast's High-Volume Exports
Supplying a huge volume of 2,000 tonnes/month to customers in Kolkata, Chennai, Nhava Sheva, Mundra, Pipavav, Delhi…
Our customers in India: EVEREST POLYFILLERS, Premier polymers, Om Polysacks, Total packaging, Jumbo Bags Ltd, SAI INDUSTRIES, STANPACKS, etc.
We at PlastIndia 2023 (February 01-05, 2023)
Mega Plast participated in PLastindia 2023
If you're looking for a CaCO3 filler masterbatch supplier that offers outstanding performance at a competitive price, contact Mega Plast today!​​ ​​