Mega Plast is a member of Nhat Huy Group which is the first Vietnam Supplier of Filler Masterbatchto own CaCO3 powder factories (Global Minerals), so we can directly collect the best source for producing PP Filler Masterbatch and production cost-optimization. Our factory covers an area of 50,000 square meters with a total annual production capacity of 160,000 MTs.
We are happy to gladly inform you of the new formula from our factory. With the new formula from our factories, our PP FILLER MASTERBATCH can HELP INCREASE THE DOSAGE RATE UP TO:
30% FOR HIGH-SPEED machines 520mpm FOR PP WOVEN;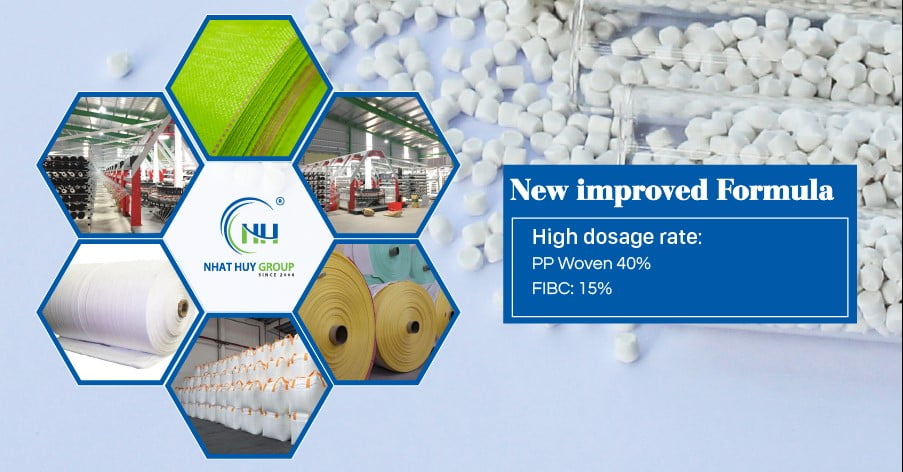 This material will replace a part of Virgin Resin (up to 40%-50%) to help you gain a big profit in your pocket but still keep the excellent elongation, tensile strength, super smooth surface, and dispersion.
In filler masterbatch, we add some additives to increase the elasticity when you process with Virgin Resin and this also supports you to negate all problems that occur in manufacturing PP Woven Bag/FIBC Bag.
EXPLORE OUR RANGE OF PP FILLER MASTERBATCH FOR WOVEN APPLICATION
About Mega Plast – a member of Nhat Huy Group
Our factory has been founded for more than 15 years with 10 subsidiaries
Excellent Anti-Fibrillation
The annual capacity of 120,000 MTs with 2 factories
Distributed by the 5 Biggest agencies In India, Saudi Arabia, Pakistan, Bangladesh, and Poland,…