For certain product manufacturing processes, manufacturers need to add fillers to their chosen material to achieve the desired chemical or mechanical properties. Fillers are microscopic particles added to plastic during the manufacturing process that can make the product stiffer, more flexible, and maximize cost savings for businesses.
PP filler masterbatch
Polypropylene (PP) is a thermoplastic polymer resin that can be easily combined with other synthetic materials. With outstanding properties such as good elasticity, anti-deformation, electrical insulation and especially high transparency, polypropylene is favored by manufacturers, especially in the injection molding industry because of its durability and suitable for many cases. use. The common applications of PP in the packaging industry, the production of household appliances, appliances require high aesthetics and durability.
PP plastic filler (PP filler) is a combination of high-quality polypropylene (PP) and calcium carbonate (CaCO3) resin base (75-80%).
Using calcium carbonate to partially replace primary plastic is important in reducing production costs for businesses. In addition, calcium carbonate has a very high melting point (up to 825 degrees Celsius), is non-flammable, has good hardness as well as high brightness. Therefore, using PP plastic filler helps to improve hardness, impact resistance, increase heat resistance as well as bring better clarity to the product.
See more Filler Masterbatch – Cost optimization solutions for the plastic industry
Some of Vietnam's leading filler masterbatch manufacturers
Mega Plast
Mega Plast of Nhat Huy Group is one of the leading manufacturers and exporters of plastic additives in Vietnam. Mega Plast factory is one of the advanced plastic filler masterbatch factories invested early in Vietnam with an area of ​​50,000 m2, with many geographical advantages as well as development vision.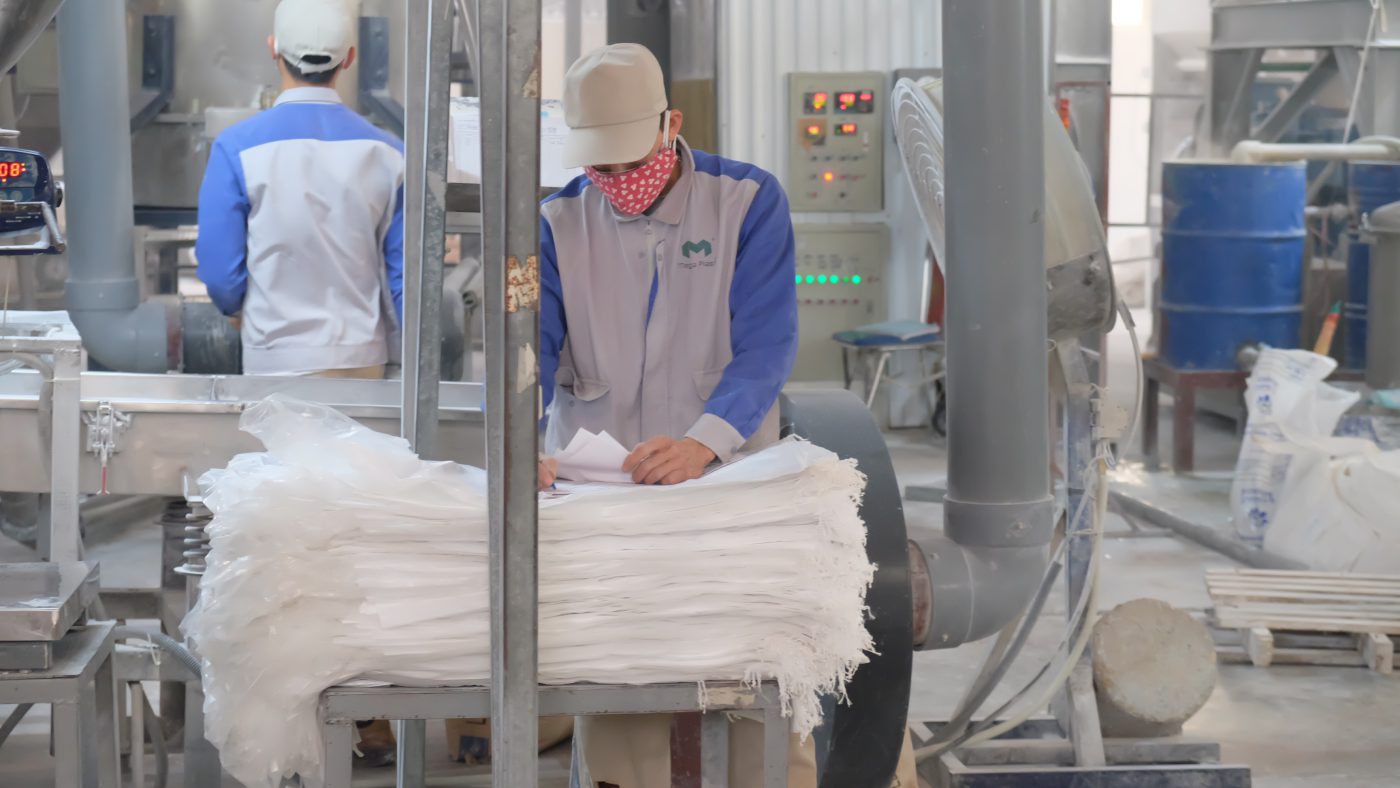 Compared with domestic and regional plastic resin factories, Mega Plast confidently asserts its leading position in technology and output product quality. The outstanding achievement of the factory is that it has upgraded the investment in production technology of 3-screw extruders with automatic feeding and mixing systems to help PP filler masterbatch products disperse better, remove moisture, and increase the ratio. loading, suitable for higher speed products… (Denier: 540-600, high speed > 500, filler rate: 6-25%), the plastic particles are cut evenly and aesthetically more beautiful.
Europlas
Europe Plastics (EuP) was established in 2007. PP plastic filler is one of EuP's flagship products. EuP's PP plastic filler product is crystallized from high-quality CaCO3 rock powder mined in the thousand-year-old limestone mountains in the North of Vietnam and Polypropylene primary plastic.
If your business is looking for a reputable filler production facility that is cheap but stable and excellent in quality to support you in the production of blown film, extrusion, blow molding, woven bags or nonwovens… This is also a brand suggestion worth paying attention to.